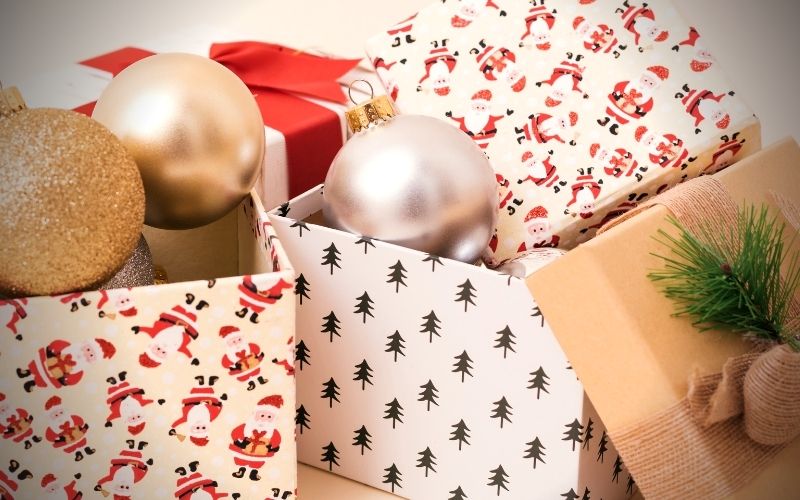 Are you holding onto old Christmas clutter because you feel guilty about letting it go? Or maybe you are just feeling overwhelmed about the mountain of Christmas ornaments you have to pack away? Discover some frugal hacks to Christmas clean up!
It's the week after Christmas and are you wondering how to save on Christmas clean up AND get your house organized in the process? Believe it or not, but there are a lot of very simple ways you can save on Christmas clean up that will help you start the new year out right!
Hang on and I'll share my favorite tips on ways to save on Christmas clean up that I know you'll love because I know how much you love to save money. And, after Christmas, you probably are feeling like you want to save as much money as possible.
Before I share some great tips on ways to save on Christmas clean up, I have to tell you about my favorite freebie – our Speed Party Planning Checklist. Trust me, you'll want to grab this one right now. Just sign up below and I'll send it right to you!
WISH PLANNING A PARTY WAS A PIECE OF CAKE?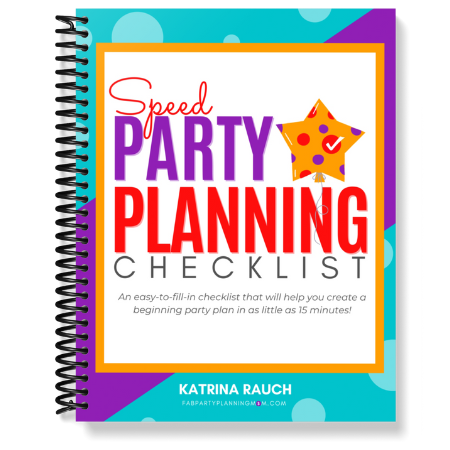 Now it can be! Let me help you begin the planning process with our easy-to-fill-in checklist. Our Speed Party Planning Checklist will help you begin creating a basic party plan in as little as 15 minutes! It's a game-changer - get it FREE for a limited time!
Want to remember this post? Pin this post, Christmas Clean Up – 12 Simple Ways To Save, to your favorite Pinterest board right now!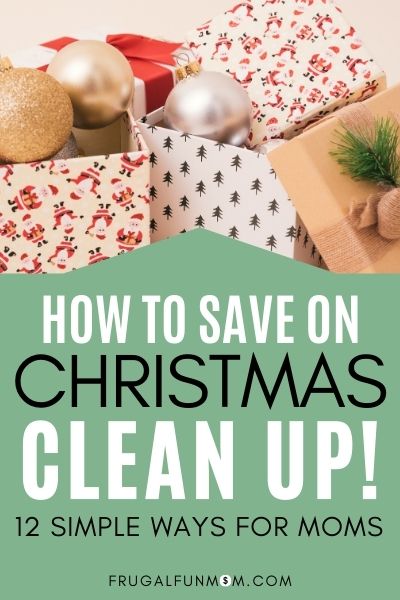 Tips To Save On Christmas Clean Up
Now, like I was saying – let's jump right into those tips on how to save on Christmas clean up. First of all, let me tell you a little bit about where this list came from. I was that kid that took great pleasure in cleaning my room – every weekend.
I liked things to be in order and when my room was messy I couldn't concentrate on anything else until it was clean. As an adult I'm still that way. I like my house to feel clean and un-stuffed.
Decoration Scrooge
Which kind of makes me a Christmas decoration scrooge, according to my oldest son. You see, he loves Christmas décor. He has no problem with thriving in a mess (trust me, if you saw his room you would understand), and he would prefer to keep Christmas decorations up for months.
I, on the other hand, am giddy about taking them down the day after Christmas. Now, I must add, that this year, I did put them up much earlier than usual – about a week before Thanksgiving – so I won a few extra mom points from my son this year.
Then I lost all those extra mom points when I decided to take them all down 2 days after Christmas. I can tell you, I'm not sad about it at all. My house was sparkling clean too, for about a day, but it feels so much better not being full of Christmas stuff.
Other Christmas Fun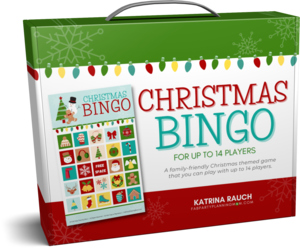 All this talk about Christmas reminds me of a fun Christmas game you can snag FREE from me right now – yep, Christmas BINGO! And it's a blast!
So if your brain works anything like mine, and just the mention of the word Christmas has you thinking about all the fun things you want to do during the holidays, then grab this freebie right now, so you have it ready when you need a quick activity to do with the kids! Grab BINGO now, it's my FREE gift to you!
Christmas Claustrophobia
All month long there has been a constant trail of sugar cookie crumbs, fake pine needles, and ornament dust littering the house. I try to ignore it, and I did for a solid 4 weeks – but then, I'd had it. The Christmas claustrophobia needed to come to an end. I wanted to breathe in the smell of clean – you know, that lovely smell of vinegar!
Wondering how to make your house sparkling clean at a fraction of the cost? Make my Katrina's Homemade All-Purpose Cleaner and your house will shine without breaking the bank!
If you are anything like me, you might struggle to focus when your house is cluttered? I knew I wanted to start the new year off right and not be chasing my tail trying to get my house in order, so I got to work right away to get my house clean and organized.
Get Organized
I wanted to share with you a few tips that have worked for me to get my house organized and to save on Christmas clean up. I've been using these tips for years to help me not only save money after the expensive Christmas holiday, but also to help me feel ready to take on the challenge of the new year.
Before I jump in too far, I'd also suggest this quick list of supplies that helps make your Christmas clean up even easier and faster. You don't need all of this stuff, but each item on this list is worth the investment down the road. I have all of these things and LOVE each one of them. I use them consistently and they help me stay organized.
Supplies To Get Organized
13 Ways To Save On Christmas Clean Up
1. Take A Deep Breath
Before you tackle your Christmas clean up, take a deep breath and make a cup of coffee. Savor it and then get to work! Just remember, Rome wasn't built in a day, and there is no way you can completely clean and organize your house in one day. Just take it a day at a time and do the best you can.
2. Make A List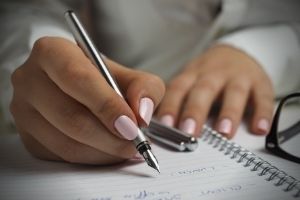 Before you start to tackle your Christmas clean up make a list of all that needs to be done. That way, you can check stuff off your list as you go – giving you a big sense of accomplishment. It helps. I promise.
3. Enlist Help
Many hands make light work. Get your kids involved in the process. They can help by hauling boxes to and from the storage room where you store all Christmas decorations. They can help pack up ornaments and put away stockings. There is a lot they can help with and will make the job go so much faster!
4. Reuse Gift Bags
Don't throw away all those cute gift bags that you spent a fortune on -or that someone gave you. Save them and reuse next year. Reusing your gift bags is an excellent way to save on Christmas clean up. Store all your bags in a plastic storage tote that is just for Christmas gift wrapping supplies. Take it one step further and label your storage tote using a handy label maker – this is one I have and love it!
WISH PLANNING A PARTY WAS A PIECE OF CAKE?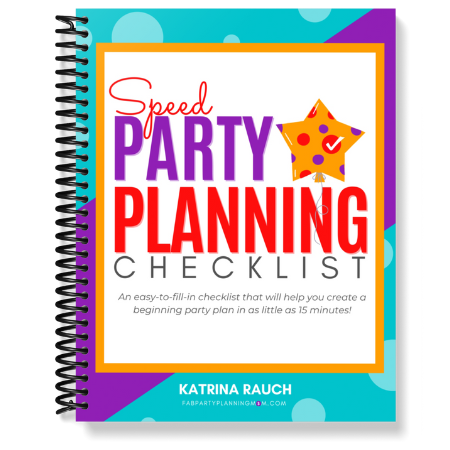 Now it can be! Let me help you begin the planning process with our easy-to-fill-in checklist. Our Speed Party Planning Checklist will help you begin creating a basic party plan in as little as 15 minutes! It's a game-changer - get it FREE for a limited time!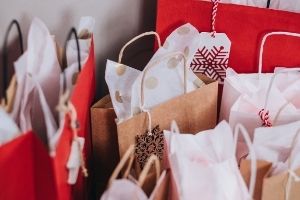 5. Save Tissue Paper
Yep, I said it, save the tissue paper. I save tissue paper for any gift that our family receives in a gift bag. I just lay it out flat and fold it. Then, I like to organize it by color in my plastic storage tote. Works great and makes it super easy to find the color you need to match the gift bag you want to to use.
6. Regift
I'm a huge regifter. Yep! I sure am and I'm proud of it! There is nothing wrong with regifting something to someone else. Especially if you have a lot to give. Christmas is the season of giving and so many times we are given way too many gifts.
There is nothing wrong with looking through some of the gifts you have been given and giving one to someone else instead. It's also a great way to save money on Christmas clean up.
7. Collect Gifts All Year
I like to collect giftable items all year long when I find a good on something. Think about gifts for neighbors, teachers, friends – candles are a great gift to give. When there is a good deal on candles, stock up, especially if you can find the really good ones.
Next year, when Christmas rolls around, you might already have a stockpile of gifts to give! When you are given a gift you don't intend to keep, add it to your gift pile and re-gift it to someone on your list.
8. Sort
If you are anything like me, the week after Christmas, you fed up with cinnamon scented décor items, gift wrap, and the extra ornaments that just didn't fit on the tree. Before you pack stuff back up for next year, sort it.
How many Christmas decorations never made it out of the box? Do you still need them? If you didn't put them up this year, will you next year? If your answer is no, then give them away or donate them! And now is the time to do it because you know if you keep them in that box with all the other decorations you will still have to deal with them next year.
9. Save Toys
Did you kids get way too many toys from their friends, and extended family? Before they open every single new toy in one day, have them pick a few they want to open and play with and then store the rest. Allow them to pick out a new toy each month.
That way, they play with what they have and have something to look forward to. Plus, it sure helps with Christmas clean up because there are not new toys all over the place.
10. Take Breaks
Don't try to do too much in one day. Every drawer, closet, and shelf in your house doesn't need to be cleaned and organized in one day. Start with your Christmas decorations first and then move on to other parts of your house you want to clean and organize.
11. Clean Your Tree
When your Christmas tree is covered in dust because you've had it forever, don't throw it away, clean it instead! You will save yourself so much money if you clean it instead of buying a new one.
The best part, you can clean your fake tree! It's easy and if you store it in a zippered Christmas Tree Storage Bag, it will stay nice, clean and fresh for next year! This post tells you exactly how to clean your tree in a snap – Clean Your Artificial Christmas Tree – Don't Buy New
12. Play Games You Already Have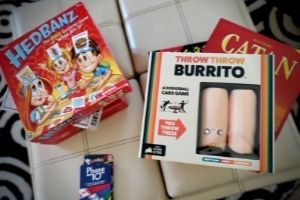 Do you have a game closet full of games your family hasn't played all year long? I know we do, and there is something about the weeks surrounding Christmas that allows for a lot of time to play games.
Instead of buying new games, get out the ones you already have and play those instead! Better yet, trade some of your old games you don't play with another family for a few months. Or even better yet, give some of your old games away to make room for the new games you got for Christmas.
Wondering what our favorite family game night games are? Here's a list of our favorites: Family Game Night – 10 Best Games You Need To Get
13. Reward Yourself!
When all your Christmas is cleaned up, make sure to reward yourself and anyone who helped! We like to make our kids work hard, and then go out for dinner as their reward. If you want to save as much as possible, then make a special dinner that your kids would enjoy and watch a special movie after. Do something they will enjoy, and it will make them feel so much better about all the work they did to help!
WISH PLANNING A PARTY WAS A PIECE OF CAKE?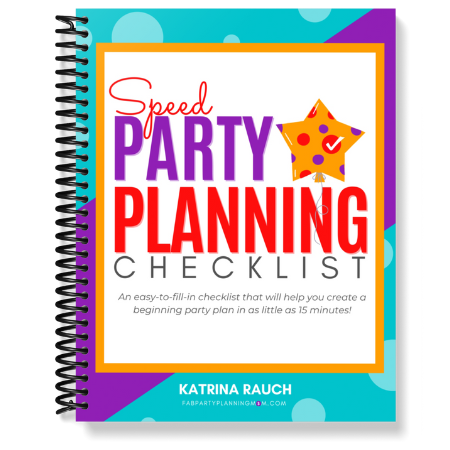 Now it can be! Let me help you begin the planning process with our easy-to-fill-in checklist. Our Speed Party Planning Checklist will help you begin creating a basic party plan in as little as 15 minutes! It's a game-changer - get it FREE for a limited time!
Use these 11 tips for Christmas clean up and you will not only save money but, will be well on your way to a more organized home before you start the new year! Plus, you will have a ton done when it's time to decorate and get ready for Christmas next year! You will thank me, I promise!
What's your favorite way to save money on Christmas clean up? Comment below and tell me – I'd love your ideas!
Oh and don't forget to grab Christmas BINGO – it's my free gift to you!