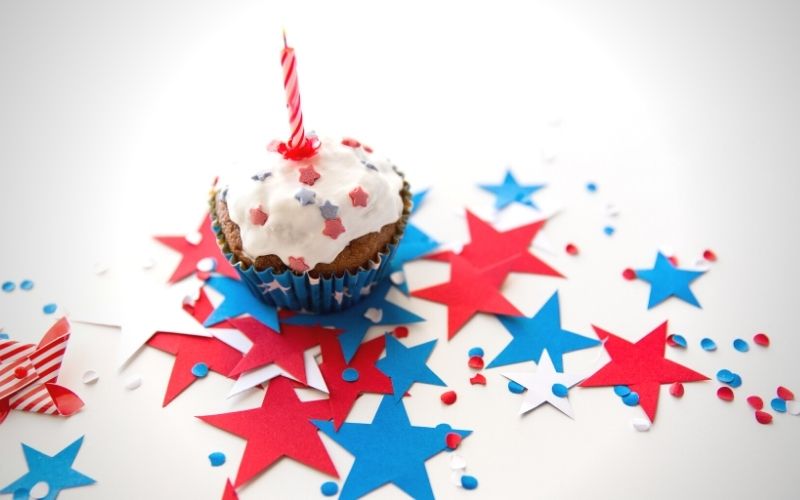 This post may contain affiliate links. Read my disclosure policy here.
Are you looking for easy and simple 4th of July birthday party ideas for kids? I mean, as if the holidays aren't busy enough, if you have a party you need to plan too, then let's make sure it's as fun and easy as possible! Don't miss these easy 4th of July birthday party ideas and let's celebrate the red, white and blue in style!
Does your child have a birthday that falls near 4th of July? Lucky! I know sometimes it's hard to see a birthday near a holiday as a blessing, but I truly think it can be – it's all in how you look at it. 4th of July is such a fun holiday filled with lots of traditions and fun accessories.
I mean, who doesn't love the idea of grilling burgers and hot dogs, enjoying time outside with neighbors and friends, eating all of your favorite picnic foods, and then staying up late to watch the fireworks show?!
WISH PLANNING A PARTY WAS A PIECE OF CAKE?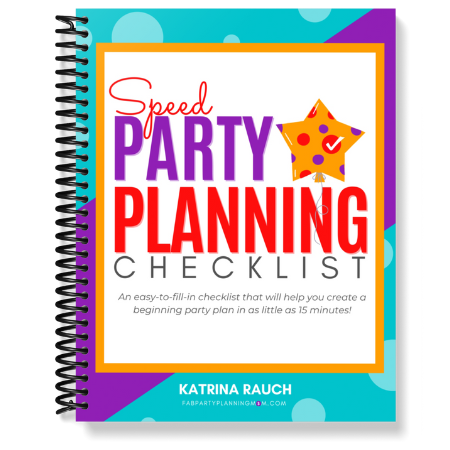 Now it can be! Let me help you begin the planning process with our easy-to-fill-in checklist. Our Speed Party Planning Checklist will help you begin creating a basic party plan in as little as 15 minutes! It's a game-changer - get it FREE for a limited time!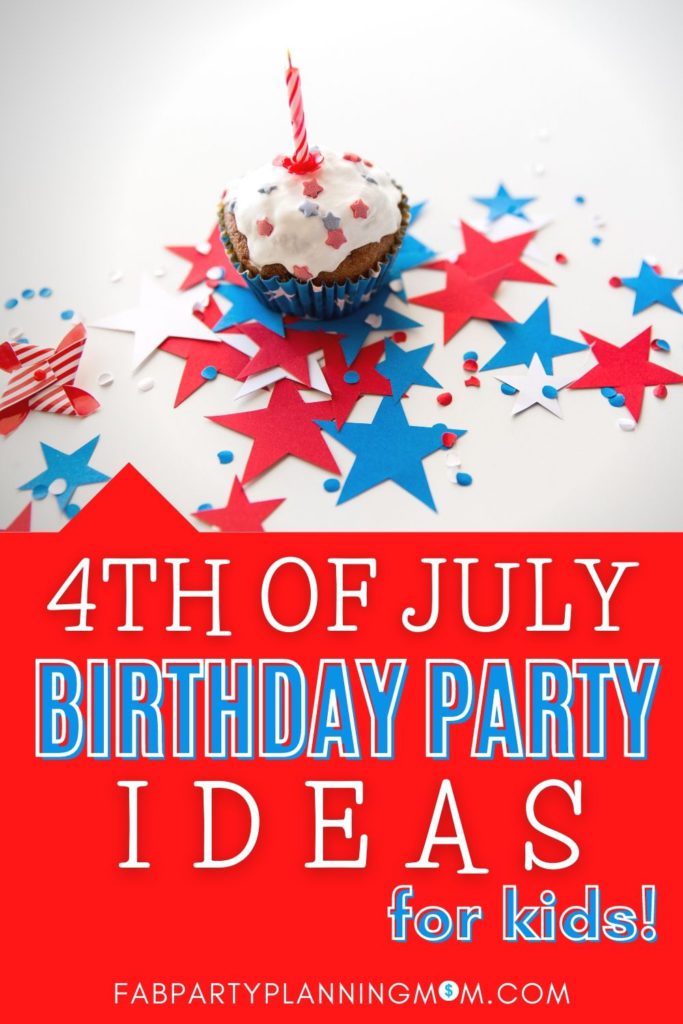 4th of July Traditions
I've always loved 4th of July. At our house, we usually drive up the mountains super early in the morning, and spend the day in Breckenridge, CO enjoying the parade and the fun festivities that come along with a small town showing it's best off to everyone who participates.
I have no connection to this small town but have loved it since I was a young child and now as an adult, we still find ourselves making the drive. After we spend most of the day in the mountains, we always stop at the same lookout and snap a family photo and then we make the long drive home in the early afternoon.
Wondering why we don't stay til after the fireworks show? It's been a long time since the mountains have allowed a fireworks show due to drought and fear of a wildfire. We simply head home before the traffic is too bad, because, usually one of our neighbors is hosting a BBQ that we still have time to attend.
We then walk to a local park once it's gets dark and watch the fireworks show. It's a pretty fantastic day actually! What does your family do on the 4th of July?
Holiday Party Fun
If you do have a child with a birthday that falls on or near or near the 4th of July, then you are in luck! Here's why a 4th of July party might be a lot more fun than you think it will be:
Red, white and blue are fantastic party colors
All the stores are filled with fun decorations, and party supplies already.
Most of the stores are having a sale any all patriotic themed items
Hot dogs, burgers, chips, sodas, blueberries, and ice cream and typically on sale too – which means it's easy to make and serve 4th of July themed picnic style food for all your guests, without having to spend extra money to do so.
People generally have an extra day of vacation off of work and tend to be more inclined to spend the day doing something with friends or neighbors, so having a party for your child is a great excuse to get friends together.
Have I convinced you yet that having a 4th of July birthday party is a great idea? I hope so, because I promise, you can make it work if you are feeling overwhelmed right now. Best part, I'm here to help!
Here are FAB Party Planning Mom we have a lot of tools to help you host fun, easy and affordable birthday parties your kids will surely love.
Plus, I'm always here to help if you have questions or find yourself in a party pinch. Feel free to reach out to me anytime on Facebook or Instagram and ask me your burning party questions, because I'm sure that between the two of us, we can figure it out.
Easy 4th of July Birthday Party Ideas
Let's be honest, if you do need to throw a party anywhere near the 4th of July, here are some super easy ideas to make the party simple and fun for you and for all your guests.
Let's break this down into five simple categories: Decorations, Games & Activities, Cake & Food, Goody Bags, and Invitations & Thank You Cards.
I'll quickly share some ideas for each of these five categories and then I'll finish up this post with a few simple savings ideas to maximize the fun and keep the budget on the lower side.
4th of July Birthday Decorations
I believe in doing things as simple as possible, and when it comes to decorations, you can do things the simple way, or the hard way. One thing to always remember when you are decorating for a kid's party is that your guests care more about the fun they will have, than how fancy your decorations are.
I'm giving you permission right now to keep your decorations festive but simple, but if you love to make super creative decorations and just the thought gets you fired up and excited, then I want you to decorate as much you have time for and that your budget allows.
I love decorations, but I prefer to spend more time on the games and activities, so most of my birthday parties are decorated very similarly.
Keep Decorations Simple
In effort to keep the decorations simple, I suggest you only decorate one room of your house for the party – the main party room. I like to pick 2-4 colors for the overall theme of the party, which is very easy for 4th of July – just stick with red, white, and blue.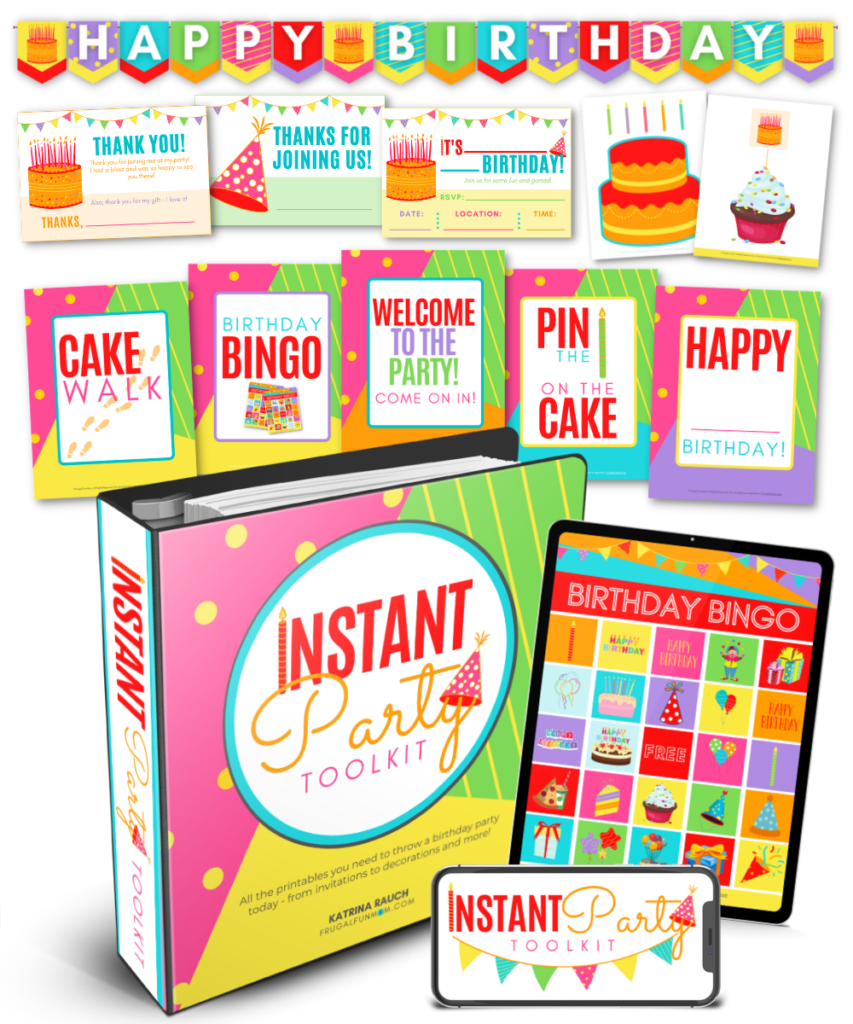 Hang streamers from the corners of your room, and then blow-up balloons in matching colors and scatter them around the room. If you have your own helium tank, fill up 10-20 red, white and blue balloons and tie them onto the party chairs, doorknobs, etc around the main party room.
Hang a Happy Birthday banner in the main party room, and that's all you need to do. Lucky for you, I've got a very cute Happy Birthday banner included in my Instant Party Toolkit that you'll love for any party!
Patriotic Games & Activities
The games and activities are my favorite part of this 4th of July birthday party ideas I'll share today! I love the games because this is where you guests really get to have some fun.
If you have a 4th of July birthday party with a lot of younger guests, under the age of 6, then I'd suggest you plan 6-7 activities that are simple to play and won't take a lot of time to complete.
If you your party guests are little older, ages 7+ you can plan 4-5 games that are little more challenging to play to keep them engaged the whole time.
4th of July Playdough & Sculpt'em
A good Wait-For-All-Your-Guests-To-Arrive-Activity is playdough, no matter what age they are. Make my Koolaid Playdough in red, white and blue colors.
Try these flavors – Blue Raspberry Lemonade to get the blue color, Cherry to get the red color, and Lemonade to get a lighter yellow color. You an also really amp up the festiveness of this playdough by adding glitter to each recipe of dough – you can even consider using 4th of July glitter that has little stars in it!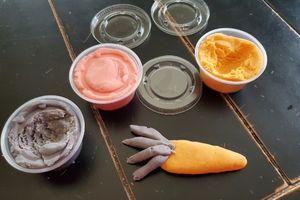 For younger guests you can just set out the playdough and some tools and let them play. For the older guests you can actually play your own version of Playdough Sculpt'em while you wait for all the guests to arrive.
To play Playdough Sculpt'em you need to make a list of 4th of July words. Cut them out in small strips and add them to a bowl. Have a guest draw a slip and try to sculpt that word with the playdough. All the other guests try to guess what he is sculpting.
4th of July BINGO
Another fun game to play is Birthday Bingo and use red, white, and blue M & M's as bingo markers. There is a very fun Birthday Bingo game included in my Instant Party Toolkit that you may want to check out. You can also hunt around on Pinterest for a 4th of July Bingo.
Pin the Star On The Flag
Next, play Pin the Star On the Flag – just like Pin The Tail On The Donkey – except you would need to make a big Flag out of poster board and don't add any stars. Give each player a star with some tape on the back.
When it's their turn you would cover their eyes with a scarf and spin them around in a circle. Then send them off to try to pin a star on the flag in the correct spot.
If you don't have time to make your own Pin The Star On the Flag, then you can snag my generic Pin the Candle on the Cupcake that you can find this in our Instant Party Toolkit. Super fun to play with all your birthday party guests.
American Flag Piñata
Make your own homemade American flag piñata for the kids to bust open! You can learn how to make your own DIY piñata here.
While I understand the thought of trying to make your own piñata might sound super scary, it doesn't have to! You can absolutely make your own piñata without having to use paper mache'!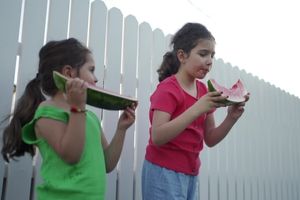 Watermelon Seed Spitting Contest
Next have a watermelon seed spitting contest! Have each guest try to spit watermelon seeds as far as they can. Whoever spits it the farthest, wins!
Blow-A-Firework
Blow-A-Firework is more of a simple craft you can do with very inexpensive supplies. All you need to do is gather blue construction paper, white star stickers, and white and red streamers. Cut your blue construction paper in half portrait-ways making 2 strips that are 4.25 inches wide.
Then cut your strips in half again – making each square be 4.25 x 5.5. Roll the strip making a tube – similar to a toilet paper roll, and tape together. Cover the blue tube with star stickers. Then cut 12-inch strips of white and red streamers and tape to one of your tube, making a firework.
On the non-streamers side have your guests blow into the tube making your firework wave in the wind! These are so easy and fun to make and are a perfect 4th of July birthday party idea.
WISH PLANNING A PARTY WAS A PIECE OF CAKE?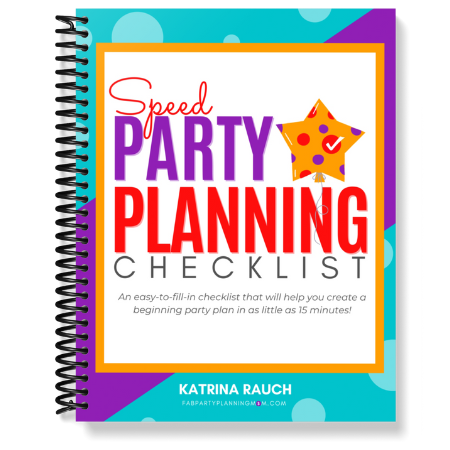 Now it can be! Let me help you begin the planning process with our easy-to-fill-in checklist. Our Speed Party Planning Checklist will help you begin creating a basic party plan in as little as 15 minutes! It's a game-changer - get it FREE for a limited time!
4th of July Tic-Tac-Toe
Finally, you can have your guests make their own 4th of July Tic-Tac-Toe game. This idea is perfect for kids who are a bit older. Have the kids head outside and find small rocks that are all about the size of a quarter. Then set out blue, white and red paint.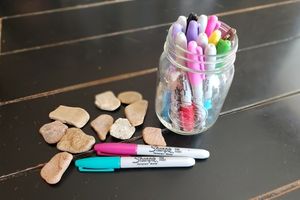 Have your guests paint 5 rocks solid blue and 4 rocks solid red. Let them dry. Next, using white paint little dots on the blue rocks to represent stars and stripes on the red rocks.
Let the rocks dry on a paper plate. If you don't want to use paint, you can use Sharpie markers to color the rocks.
Give each guest a little baggie and have them draw a Tic-Tac-Toe board on the front of it using a Sharpie marker. When the rocks are dry, your guests can play a few rounds of Tic-Tac-Toe and then store in the baggie when they are done. Super cute! Super cheap, and Super fun!
You don't have to do all those games, just pick a few that you think your child will enjoy.
4th of July Birthday Party Food & Cake Ideas
Food for a 4th of July Birthday party is easy! You can decide if you want to serve a whole meal or not, but if you do make a full meal, then make it easy and serve corn dogs, chips, blueberries, and strawberry water! You can see my super easy flavored water drink recipe here.
If you don't feel up to serving a whole meal, or if you simply want to save money (which is ok), then go for fun 4th of July snacks like popcorn mixed with red, white, and blue M & M's and strawberry water.
For cake you can try one of these birthday cake alternatives, like the Berry Pie! Or if you do decide to make a cake – do yourself a big favor and make it easy for you! Use this Easy Kids Birthday Cake Recipe and instead of coloring your frosting – keep it white.
Then add red, white and blue sprinkles to the top, or if you want to add an extra kick, sprinkle Pop Rocks on top of your cake instead of sprinkles!
American Flag Cake
Or you can consider making an American flag cake using strawberries for stripes and blueberries for the blue part of the flag, or if you have left over red, white and blue M&M's, then use those to make a flag on your cupcakes or cake.
Honestly, you can do anything you want – do what works best for you, that doesn't stress you out and always do what you think you can master quickly. If decorating a cake with sprinkles is the fastest and easiest for you, then that is just perfect. Pssst, I've decorated many cakes and cupcakes with nothing more than my homemade frosting and sprinkles many times myself and it was just wonderful!
By the way, if you need a super simple birthday cake and frosting recipe that uses boxed cake mix, then you'll want to pin this Easy Kids Birthday Cake Recipe For Moms and Easy Buttercream Frosting any Mom Can Make – right now.
4th of July Goody Bags
I believe that you should give out goody bags at every birthday party you host, but I don't believe that you need to spend a lot of money on them. The best goody bags are the ones that include things you made or created at the party.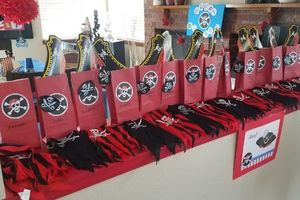 For this 4th of July Birthday party, you'll want to buy some brown paper lunch sacks and if you have any leftover white star stickers, add a few to the outside of each bag.
Write each guest's name on the front of the bag and then as the guests create things at your party, you will add those to the bag to give your guests when they leave.
In fact, I have a half wall in my main living room, which is where we hold most of our parties. I like to set up the goody bags on the halfway, so that they are easy to access as we go about the party. Plus, they are very noticeable when guests leave, so I don't forget to hand them out!
Don't Do It All
Some of the items your guests can take home from this 4th of July birthday party are the 4th of July Tic-Tac-Toe game they made, and their Blow-A-Firework they created.
They can also take any of the candy they got from the piñata, and if you want to give out the playdough, you can do that too by portioning out the dough in small 2oz sauce cups with lids. These are perfect for storing and sharing the playdough.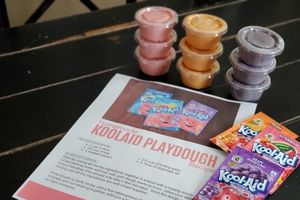 Don't feel like you need to spend any extra money on your goody bags – all the stuff you made is plenty, but of course, it's up to you.
4th of July Birthday Party Recap
And there you have it! What a fun 4th of July birthday party! Don't feel like you have to do all the things listed in this post, just do what works best for you.
A lot of times, my decision to do something at a party has come down to if it was available at the store, or how complicated it was to prepare. If I just wasn't feeling it, then I didn't provide it for my guests. Which is ok by me!
Birthday parties for your kids can be extremely stressful, but if you have a solid plan, and prepare ahead of time, you can pull off an awesome party your child will love! If you need help getting all your ideas on paper in a orderly manner, you'll want to grab my Speed Party Planning Toolkit now.
It's filled with printable worksheets that help you get your entire party out of your head and on paper and trust me, it's just what you need to get organized.
Other Party Planning Tools You Might Like: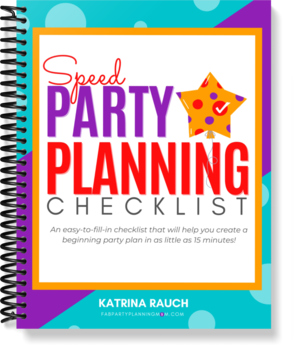 Wondering where to begin when planning a party?
If you want an easy tool that can help you begin the planning process for your next party, then our Speed Party Planning Checklist is the perfect first step!
Plus, it's my gift to you – hurry, it's only free for a limited time! You can grab it here.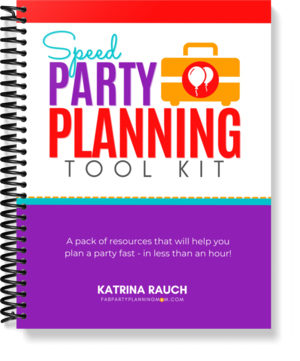 It's no secret that having all the nitty gritty details organized for your upcoming party will help you feel calm, relaxed and ready to focus on the fun!
This tool kit includes 6 party planning worksheets, including our wildly popular Speed Party Planning Checklist! Plus, a lot of extra resources.
This pack of resources will help you organize and plan your party details fast – in less than an hour!
WISH PLANNING A PARTY WAS A PIECE OF CAKE?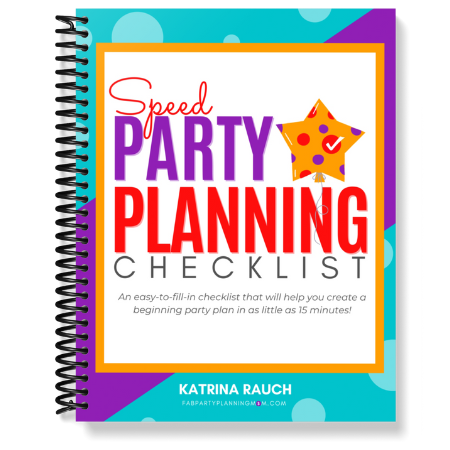 Now it can be! Let me help you begin the planning process with our easy-to-fill-in checklist. Our Speed Party Planning Checklist will help you begin creating a basic party plan in as little as 15 minutes! It's a game-changer - get it FREE for a limited time!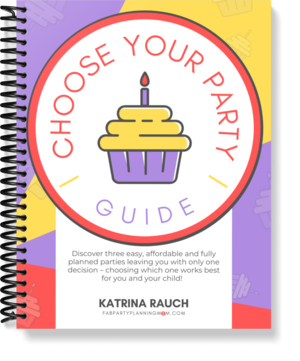 Our must-have guide includes three completely planned party plans leaving you with only one decision – simply picking which one works best for you & your child!
Planning your child's birthday party doesn't have to be stressful – if you have the right tools! Yep, you can throw an in-home party without spending a lot of money, and I promise you won't lose your mind in the process!
In fact, you'll be super proud of yourself!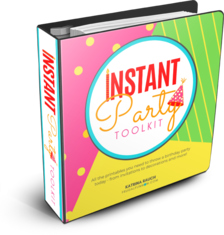 Did you wait until the last minute to put your child's birthday party together? Our Instant Party Toolkit is just what you need! This bundle of essential printables is just what you need to throw a fabulous party for your child in an hour or less, and includes
This digital toolkit is full of printables you can simply print out and know you have everything you need from decorations to invitations done and ready to go!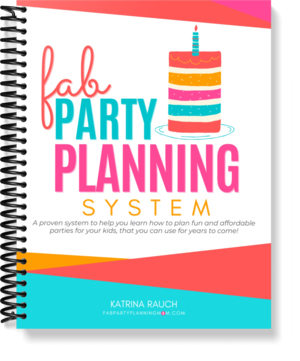 If you wish party planning wasn't so hard, and want to finally learn HOW to plan a party the easy way, you'll love this system! In this system I teach you 8 lesson on how to plan all aspects of a party the way I do it!
FAB Party Planning System is just what you need to plan amazing parties for years to come!